What We Do
Seattle Rubbish Removal is a locally owned and operated junk removal and hauling service in business since 2005. We operate some of the biggest rubbish trucks around (About 20 cubic yards) so you get the most value for your money. You tell us what you want to go, and we'll load it up. We go the extra mile to leave your space neat and tidy so when we're done, you're done. Our customers are consistently impressed with our service. Check out our reviews at places like Yelp and Angie's List.
Environmental Friendliness
Exceptional Customer Service
Reliable Scheduling
Competitive Prices and a No-Nonsense Price List
No Surprises
Find Seattle Rubbish Removal on Angie's List, Yelp & Google My Business! If you have used our trash removal services before and would like to leave a review, click one of the icons below. We really appreciate your feedback.
We recycle or donate as much as possible. Types of recycling we do a lot of are: wood, yard waste, concrete/dirt, CDL (construction, demolition and land clearing debris), cardboard, paper, electonics, and donations. Usable furniture and household items are dropped off at Goodwill or similar thrift store locations around town. If it can't be recycled, we dispose of it properly at one of many public/commercial transfer stations around town.
Full Service Junk Removal
Junk Removal is our primary service. Once you submit your Junk Removal Estimate, we will be in touch and will come to your property with a large dump-body truck. Our professional junk hauling crew will load your rubbish into our truck, then it's back to base for sorting. We have our own container trucks, dumpsters & yard space which allows us to methodically sort waste from recyclable material.
Roll-off Container Service
We also offer dumpsters (a.k.a. Roll-off containers) for your construction or land clearing projects. We only accept loads consisting of recyclables in our dumpsters. Typically that translates to loads such as a commingled construction debris load, or a load of dirt, or a load of clean-green yard waste. We don't accept other "garbage" in our dumpsters. If you have some garbage, consider our full service junk removal.
What They Say
Not only did they give us the lowest quote of the three companies we called, they were fantastic to work with. They called to confirm time of arrival and answered promptly when I had questions. The guys who showed up were friendly and professional and did way more than I expected! They dug under our porch to make sure they got everything and walked us through at the end. Worth every penny.
What We Haul
Get rid of that old junk taking up space in your home and give yourself some breathing room. Click the image below for pricing details.
You just got done with all that hard work, let us take care of the aftermath. Click the image above for pricing details.
Just got done doing some landscaping or another yard project? We can handle the yard mess for you. Click the image below for pricing details.
Can't get any money for that nasty couch? We can get rid of that for you. Click the image below for pricing details.
Have a broken refrigerator or just got a new oven? Let us handle the dirty work. Click the image above for pricing details.
Have some broken computers or an outdated TV? We'll get right on that. Click the image below for pricing details.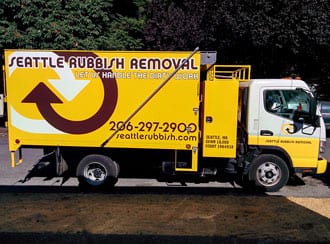 Container Service
Our containers are a good choice for large demolition, remodeling, construction, or land clearing projects. This allows you to take the debris from your project and recycle it, knowing it has been taken care of by professionals. For more information on what our container service can be used for and pricing, click the button below.